Life has been a blur of activity around our place this year! A dream that has been in our heart for a long time now has been to have a discipleship school, pouring into believers, "admonishing and teaching everyone with all wisdom, so that we may present everyone fully mature in Christ" (Colossians 1:28).
It was with great excitement that from March to May of this year the dream came true, and we were able to host our very first Father's House Discipleship School! People of all ages, from six different nations, came together here in a beautiful kloof here on the farm to be discipled, learn about the Father's heart, and in turn become equipped to go out and make disciples wherever the Lord brings them from the school.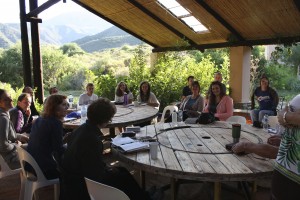 We were delighted to see people completely transformed by the Love of Jesus as they came apart during the school and encountered the Father's Heart.  Each of the students grew significantly in their love for the Word, love for each other, and passion for Jesus as they participated in classes, ministered to one another, and went into the surrounding communities to minister to others as well.
Some of the ministry opportunities they participated in included helping out with a chess club in the nearest kloof with the farm worker's children, ministering at the local orphanage, doing street ministry in the nearby towns, and ministering in the local hospital.
After the school, many of the students also participated on an extended outreach during which they primarily ministered in three different towns. It was incredible to see the divine connections the Lord had set up for the team, as they had opportunity after opportunity to pray with and minister to the local people.
Before leaving the school, many of the students said that they loved the family atmosphere that they experienced here. They truly were a family as 17 staff and students lived in one house, cooked meals together, cleaned together, and learned together in close community. Life-long friendships were forged during that time.
Due to the huge success of the first school, we have decided to host a second school this year as well which will run from mid-October through the beginning of December. We are so excited to be a part of seeing the Lord break through in the lives of students who come with hungry hearts.